Massive Shakeup of Major Players Under Way, Especially in Social Media
LarrySanger.org does not usually break news. But since this is such a huge story and no other outlets seem to be covering it, we thought we would do so.
Note: Updated rank numbers (not images), below, with data from Sept. 30.
Sep. 29, 2019 (THE INTERNET) – Many of the websites that have come under attack in recent years for violating user expectations of privacy, free speech, autonomy, and neutrality are now in decline, according to data published by Amazon's web traffic ranking website, Alexa.com. The decliners include many of the best-known names of Big Tech: Twitter, Facebook, Wikipedia, Instagram, Quora, and more.
LarrySanger.org has been unable to locate any recent articles in the technology and Internet press making similar observations of these startling declines. We rely on our readers to fact-check us. The observations are much in line with declines in downloads of Facebook and Instagram apps, noticed by ReclaimTheNet.org.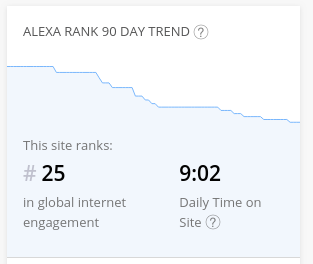 Twitter plunged from Alexa rank 11 to 26 in the last three months. The microblogging site, dominated by celebrities and news, now trails Reddit in the rankings. Reddit itself has recently declined from a peak of 12, in July, to 18 today. Twitter was the focus of a "Social Media Strike" campaign last July 4-5. At the same time Wikipedia ex-founder Larry Sanger and others, who organized the strike, promoted a Declaration of Digital Independence.
Facebook slid from Alexa rank 3 to rank 5. This might be significant, though a drop of only two spots, considering that it is within the top five. The social media giant has come under severe attack for its failure to respect user privacy rights, and has been abandoned by millions of users. The two sites that now occupy Alexa ranks 3 and 4 are Chinese sites.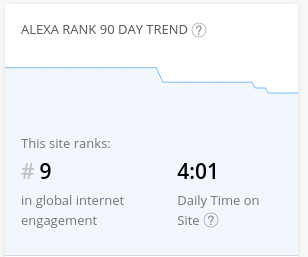 Once a mainstay of the top five, Wikipedia, too, has sunk with surprising speed from rank 5 to rank 9—all of this decline just within the last six weeks. Conservatives and libertarians have become more vocally fed up with the website's noticeable abandonment of its neutrality policy, which Sanger originally articulated and still champions. "This is not surprising to me," Sanger said, "considering everything that I have heard from Wikipedia's readers in the last few years. The dominant tone among anyone not on the political left has shifted from grudging respect to outright hostility." A relevant consideration is that the encyclopedia site's traffic can decline over the summer, when school is out, so we will see if it bounces back in the coming months.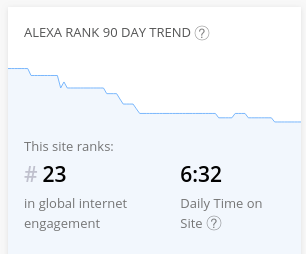 The Facebook-owned Instagram, which has also come under attack for its privacy and free speech violations, skidded from rank 13 to rank 23 in the last three months. This is in line with a study claiming Instagram engagement declined from May through July this year. As with Twitter, a common criticism of the social photo sharing site is that it tends to induce otherwise quite nice people behave nastily. Left-wing media and activists, as with many others on this list, have pressured the site to adopt policies that disproportionately impact conservative views, leading the right to exit.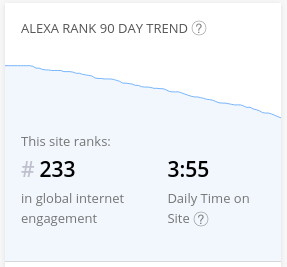 Perhaps the most dramatic decline is that of Quora, which plummeted from the respectable rank of 82—similar to the BBC website's rank—all the way to rank 235, with no sign of a slowdown. The once-dominant social Q&A site has moved gradually left over the last five years or so. The site has shed many disgruntled contributors in recent years, who frequently complain of biased moderation.
Other major recent decliners include Amazon's gaming video site Twitch (slid from 26 to 37), Jimmy Wales' for-profit wiki site Fandom (formerly Wikia; down from 53 to 74), and social sharing site Pinterest (dropped from 71 to 111).
Assuming the data is reliable, it is possible that users of major corporate offerings are finally leaving because they have decided "enough is enough" and that their privacy, free speech, and other legitimate interests will never be properly respected by the Big Tech companies that dominated the scene throughout the past decade. Other explanations are possible, of course.
Not all famous and big brands declined, but it is notable that the English language websites that gained include a few competitors of those that have come under the most severe criticism. Notable gainers include Bing (rose from 38 up to 29, a competitor of much-criticized Google Search), Office (51 to 30, a competitor of Google Docs), eBay (40 to 35), Stack Overflow (50 to 44), Apple (59 to 48), Medium (151 to 93, a competitor of Quora), and some pornography sites.
Some familiar news brands have probably absorbed traffic that might otherwise have gone to the declining social media sites: BBC (87 to 78), ESPN (113 to 85), The New York Times (117 to 103), Washington Post (287 to 178), FoxNews.com (245 to 219), Breitbart (333 to 285), and WSJ (627 to 466).
Some of the risers are of Chinese or Russian origin, the most notable of which is the Chinese TMall (rose from 9 to 4).
It is possible that these are all somehow reflections of some internal changes to Alexa's ranking algorithms; LarrySanger.org has not contacted the company for this report. But this explanation is perhaps less likely since the declines did not happen all at once but have been spread out gradually, over a period of weeks or months.