Jimmy Wales reiterates support for Wikipedia porn filter
Larry Sanger
Over on Twitter, I've been having the first conversation, of sorts, I've had in years with Jimmy Wales. First, I wrote (pointing to my post, "What should we do about Wikipedia's porn problem?"):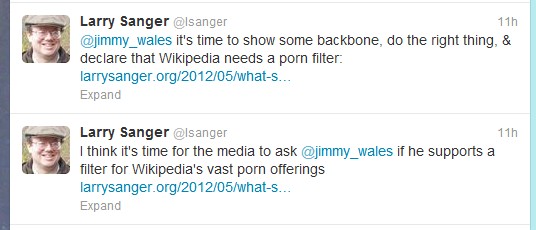 Jimbo replied:
Hmm, I thought:

Jimbo had a couple of replies to this, too:

I found it implausible that the God King could do nothing:

And that's as far as it's gone, as of this writing.
As much as I appreciate Jimmy Wales' willingness to state his views publicly, it is hard to believe him when he says he "strongly" supports a filter. He is not only on the Wikimedia Board of Trustees, he is the only member of the board that, if I'm not mistaken, has a seat made especially for him. He surely knows the situation with the filter: he surely knows that the Wikipedia community has come out against it, and that the Board he sits on has let the matter drop. So why doesn't he ask the Board to take it up again?
The trouble for Jimbo, Sue, the Board, and the grown-ups in the community generally, is that there are a lot of very loud filter opponents who will scream bloody murder if work on the filter continues, and even more if it is finished and installed. I'm sure they wish the whole thing would just go away. But that is the weak way out. That is why it is important that we not just let it go away. Jimmy Wales has boldly declared that he "strongly" supports the filter. I will believe him when he takes decisive action to help it come into being. Until then, I must conclude that he "weakly" supports it.
Some other Tweeps have shared "What should we do about Wikipedia's porn problem?" as well, including Robert Scoble (261,146 followers) and TJ Manotoc (128,146 followers), who says "this is a bit of a shocker." Several high-profile journalists (in order of response, Dan Murphy, Declan McCullagh, Andrew Lih, and Jason Walsh) have retweeted, expressed support, or told me they were reading the post.