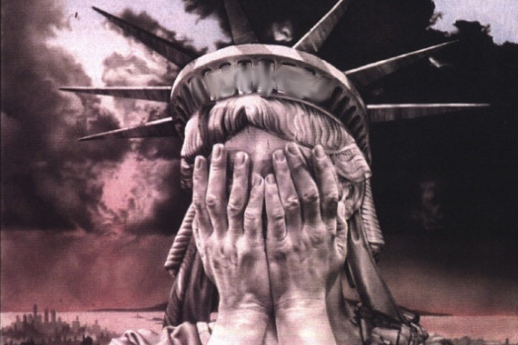 Oh, boy. The Supreme Court simply rejected the Texas lawsuit to throw out voting results in four states. Since there were no dissents, one has to assume that the case was correctly decided. The reason, apparently, was that Texas had no legal standing to file the claim. Very well. We have to assume it's true. Well, that's that.
Here is the order. The relevant language: "Texas has not demonstrated a judicially cognizable interest in the manner in which another State conducts its elections." Two of the most conservative justices—Alito and Thomas—do make a statement there, which I reproduce in full:
In my view, we do not have discretion to deny the filing of a bill of complaint in a case that falls within our original jurisdiction. See Arizona v. California, 589 U. S. _ (Feb. 24, 2020) (Thomas, J., dissenting). I would therefore grant the motion to file the bill of complaint but would not grant other relief, and I express no view on any other issue.
But what's this? Another Supreme Court case? Yes, a suit by Lin Wood against the Secretary of State of Georgia is actually on the Supreme Court docket. Not enough to change the outcome of the election, but this might provide essential support for extraordinary actions among the electors and in Congress. Here's the petition.
Also, the Wisconsin Supreme Court has agreed to hear a challenge Saturday. It's still not over. It ain't over till it's over.
So I'll agree with Tracy Beanz' pep talk. Good job, Ms. Beanz.
Meanwhile back in Texas, the Texas Republican Party chairman all but called for the state to secede from the Union immediately. Sadly, I am not joking. Picture this. The scene is Davos, 2019. "So the radicalization of the youth and the commanding heights of the society is complete. So what we do is, first we release a disease in China. We hype it to the skies and shut down society. Meanwhile, we create massive riots in the summer. We reveal that Biden is a horrible criminal, but plot twist…the evidence is hidden systematically by the media. This sends the right over the edge. Then we steal the election from Trump per long-standing practice and ramped-up plans. The evidence is overwhelming but the media denies it all and the useful idiots will, as per usual, buy it all! It's so great that generations of miseducation made them into morons! Then, with forced vaccination and more long-term civilization-killing lockdowns hanging over people's heads, with Democrats convinced that Trump is worse than Hitler and Republicans convinced that the country is falling apart (which, ha ha, it sure is), how could the Americans not break up their union? And you know what they themselves say: 'United we stand, divided we fall.' So then…they fall."
Nah, that's just crazy talk. I don't really think that. I'm not a crazy conspiracy theorist.
Calvary Church of San Jose, Calif., and its pastor were found in contempt after ignoring a court order to stop holding indoor worship services, and were fined $55,000, or $2,500 for every day the church held indoor services. "I respect the judge and I respect what the law says," McClure said. "But there's a bigger law. I have to get told, you follow God or you follow man. I have to follow what God's word says."
YouTube removed 8,000 channels for discussing the possibility of voter fraud, according to Alan Dershowitz, whom I don't trust as far as I can kick him (and that's not very far). The friend of Jeffrey Epstein proves slightly useful by being yet another person to dare YouTube to censor "The Dershow."
So, the Trump administration bought 100 million more doses of the Moderna (pharma company) vaccine, for a total of 200 million doses. Gee, that sure is good for Moderna and its shareholders, isn't it? Is it good for the American people? Well, let's just say that remains to be seen. "The Moderna vaccine was developed using mRNA technology," which apparently doesn't bother the Trump administration decisionmakers. The name of the vaccine is mRNA-1273. The FDA has not decided whether to recommend the vaccine yet.
Sen. Dianne Feinstein may have to step down soon due to senility. People are complaining that she's forgetting conversations. At least she may be booted from the Judiciary Committee. What is it with the Establishment and their superannuated politicians?
Confirming once again that, like the Nobel Peace Prize committee, Time is an irrelevant, ideological has-been, Biden and Harris are Time Magazine's "Persons of the Year." Who cares? The only reason to mention it is that people will be talking about it. But then, that's probably the main reason to apprise yourself of most of what passes for "news."
The media colluded, to borrow a word, to tank a story that, if properly disclosed, would have tanked Biden's chances. Therefore the story, rather than Biden, was tanked. "Their excuse? Pure speculation—now proven utterly baseless—that the story was the work of Russian propagandists." Yup. These people are shameless and without honor. We must sadly develop and support new media resources, as if they did not exist. Maybe the New York Post can stick around.
Like an idiotic undergraduate uneducated about matters of the First Amendment, this fool, the goddamned dean of Columbia Journalism School, Steve Coll is saying the First Amendment has been "weaponized" to disseminate "disinformation." God help us. This sort of thing really means we, the whole country, probably the whole world, are in for some serious pain.
Coca-Cola was tested positive for Covid-19. We wish the cola well and a speedy recovery. Coke can rest easy knowing that there is a 99+% recovery rate. Of course, it's the <1% death rate that warrants shutting down society for months at a time and instituting what amounts to a global totalitarian regime. Totally worth it.
In other news, Wikipedia has completed its transformation into its stupider, more radically left-wing little brother, the (Ir)RationalWiki.
The best place to watch Paul Joseph Watson's latest, "Modernity 4," may be Bitchute: